NetScan in brief
Real-time, continuous mobile network monitoring, processing and data analysis.

Covers 2G RAN (A, Abis, Gb) and selected 3G RAN (IuCS, IuPS, Iub and Iur) and LTE (S1- MME) interfaces.

Shared-RAN (MOCN & MORAN) support including secure separation of data between MNO's involved.

Reach set of pre-defined KPI's (CSSR, CSTR, etc.) aggregated per cell, project, region and BSC/RNC, and cluster of cells.

Real-time KPI monitoring and alarming per cell and BSC/RNC.

Real-time monitoring of QoE and alarming per VIP subscriber (High Value Account).

Network-wide session analysis (e.g. calltracing) with message correlation.

Message decoding down to bit level.

Open architecture ready to deploy new features (integration with external systems like data warehouse, CEM, etc.).

Support for Gn interface (User and Control Plane monitoring with Deep Packet Inspection and Classification).

Planned for 2017:

Advanced eUTRAN analysis (based on radio-related traceport data for major vendors).
Advanced Geo-location.
Advanced algorithms to support radio-planning (HO relations optimisation, coverage analysis, geo-service analysis).
System Architecture
Highly distributed, scalable system architecture to cope with high load.

Network signalling monitored through a chain of smart TAP's feeding local servers with pre-filtered data.

Captured PDU's are decoded and processed to calculate KPI's and correlate on various Levels.

Supports multi-interface correlation, including inter-BSC and inter-system handovers.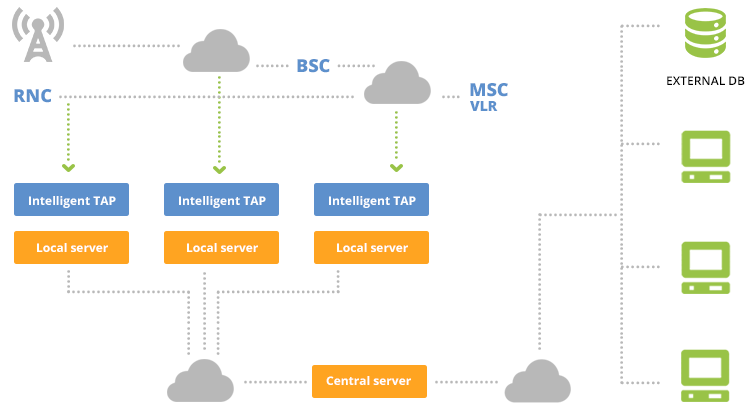 NetProbe
40 inputs 1 GbE optical (splitter 80/20, 20 pairs).

5 outputs (1 x 1GbE copper, 4 x 10/1GbE).

HW/SW filter.

Power 48 V DC.

Size: 1U (E2000) or 1,5 U (SC).

10 GbE ports.

Two-step data processing

Captured PDU's are streamed transparently into a file to guarantee lossless data acquisition and buffer peaks of traffic.

PDU's from recorded streams are processed, correlated into transactions at various levels and indexed. Some low-level statistics are also calculated at this stage. Records and statistics are stored into a local DB while processed PDU's are kept in indexed files.
Distributed information storage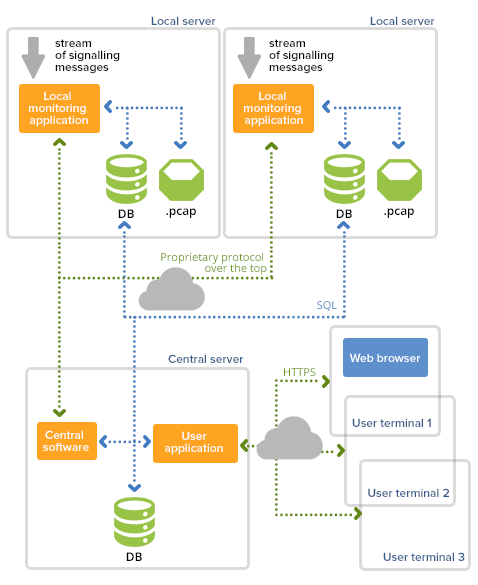 Captured data-streams are processed in real time on local servers.

Captured PDU's are correlated at various levels to form DCH transaction, RAN-Core association, NAS transaction, etc.

Transaction records and statistics are stored in distributed database.

Users access data in a system through central server and WEB-based application.
User-friendly Interface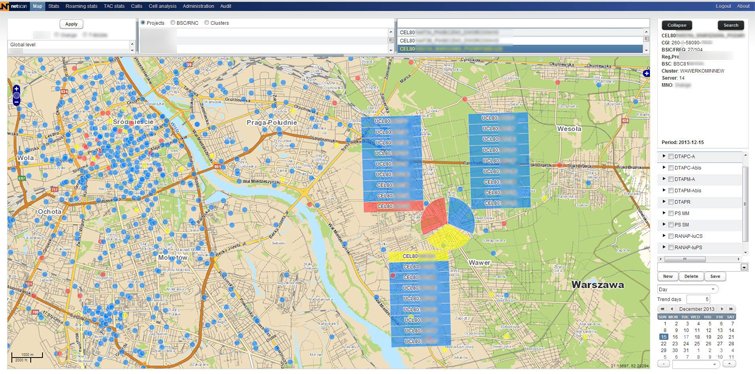 Users access system via easy-to-use, intuitive WEB application.

No single component needs to be installed on the end-user computer. Just WEB browser.

Secure access via ciphered connection and domain-based user login (SSO - Single Sign-On).

User access-rights are controlled by system administrator and allows for geographical and MNO's data isolation.

All user activity is securely logged to prevent sensitive data leakage.
Network status indication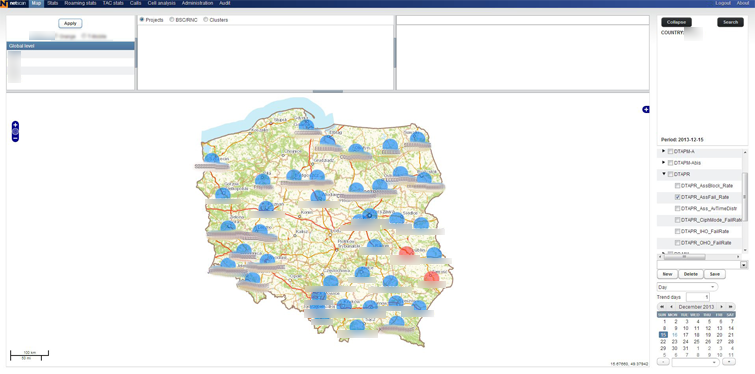 Network-status screen visualises values of statistics with colours indicating violation of statistics' pre-defined thresholds.
All elements on screen are active – with a single click one can see statistic details, detailed cell analysis or signalling transactions.
Statistics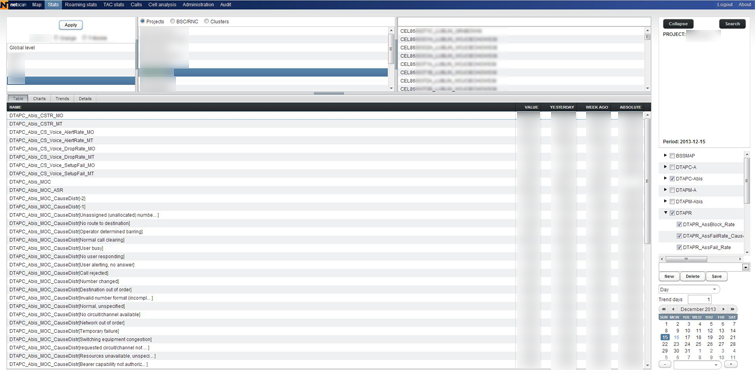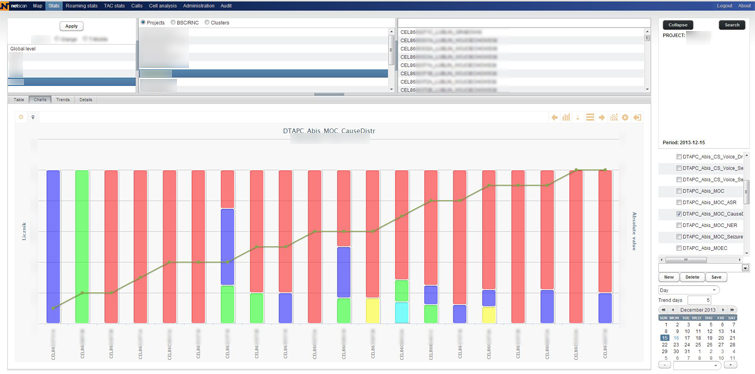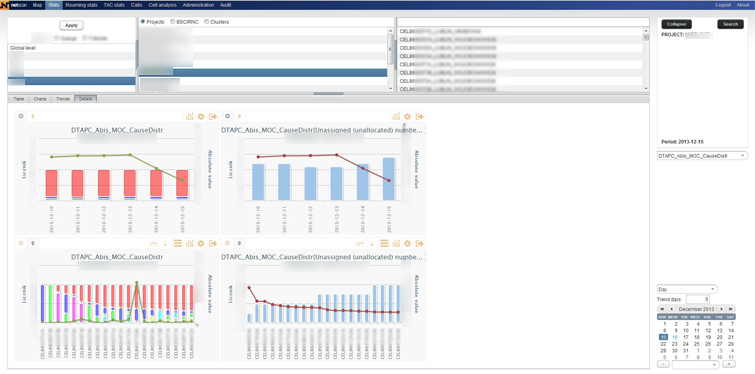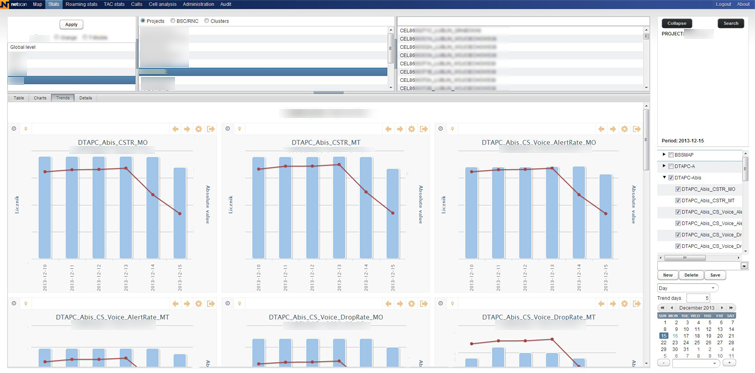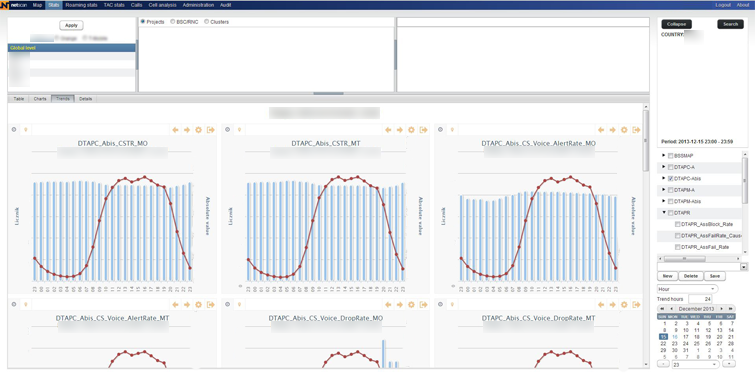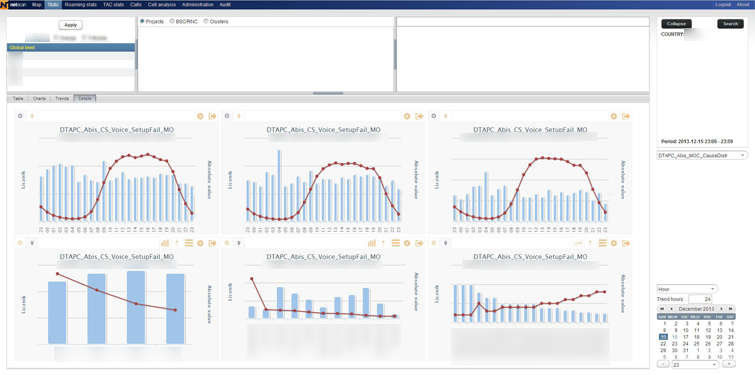 Multiple statistics in one table.

Graphical visualisation of many statistics in common geo- and time contexts.

Graphical visualisation of a single statistic in many geo- and time contexts.
Roaming statistics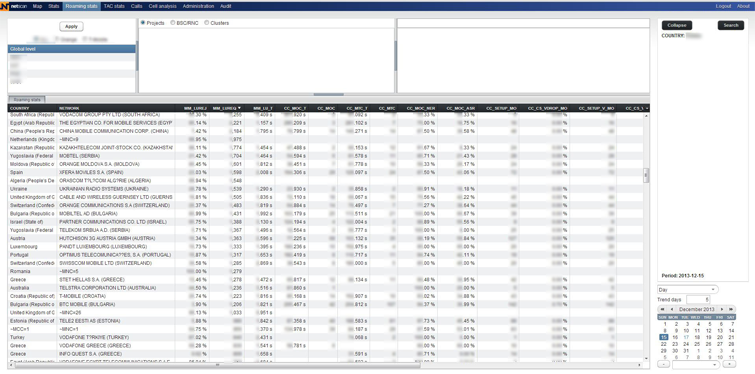 Inbound roamers statistics.

Roaming statistics can be narrowed into region, project or particular BSC/RNC.

Table can be sorted per each column.
User-terminal statistics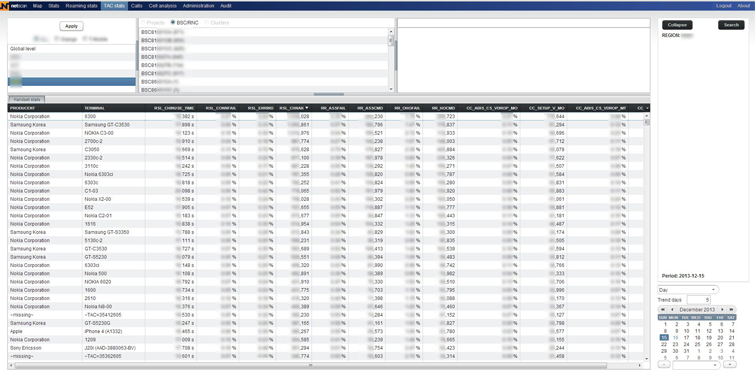 Selected statistics are distributed per terminal model and terminal vendor (TAC distribution).
Call tracing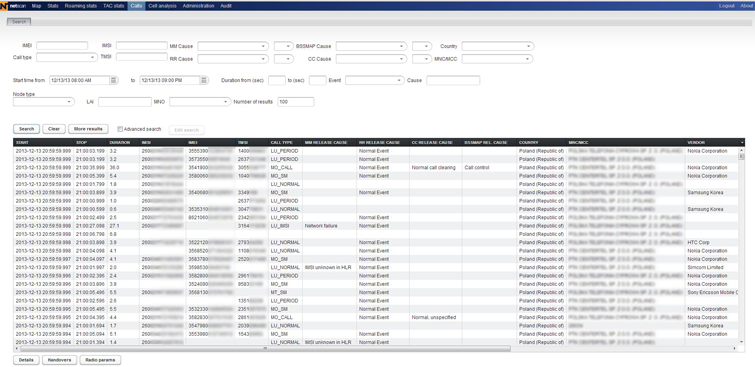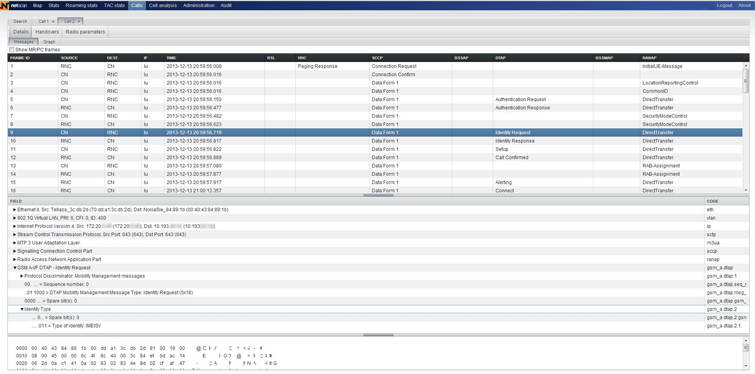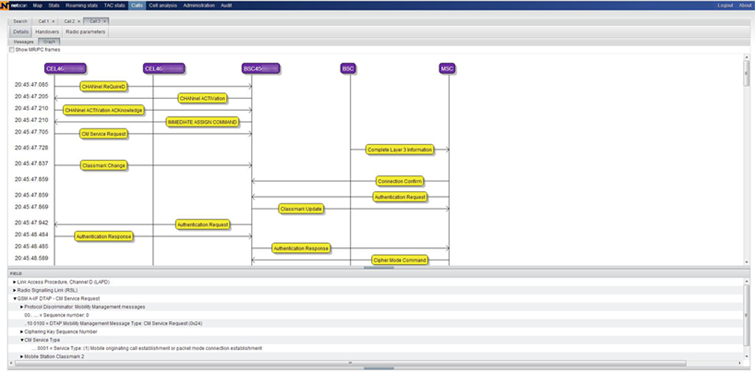 Calls can be traced based on:
localisation (Region->Project-> BSC/RNC->cell),

terminal or user identity (IMEI, IMSI, TMSI),

selected transaction parameters (termination cause, type of transaction, etc.),

specific events – like unsuccessful HO.
Transaction details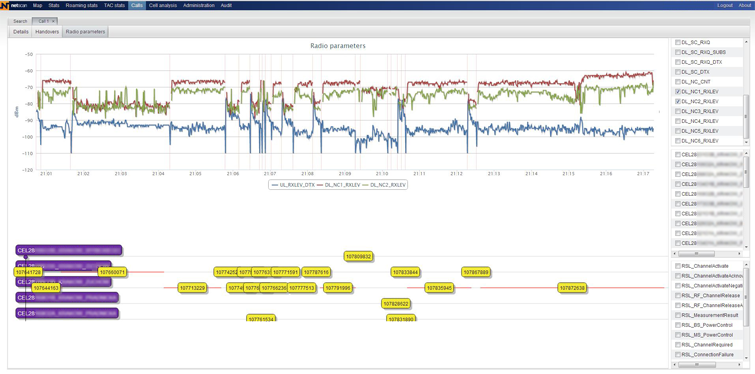 Calls can be analysed in tabular and graphical formats.

Another window conveniently illustrates handover flows.

Last but not least, a window shows all parameters reported in MR messages and all important RAN events.
Measurements are correlated with particular cells.
Cell analysis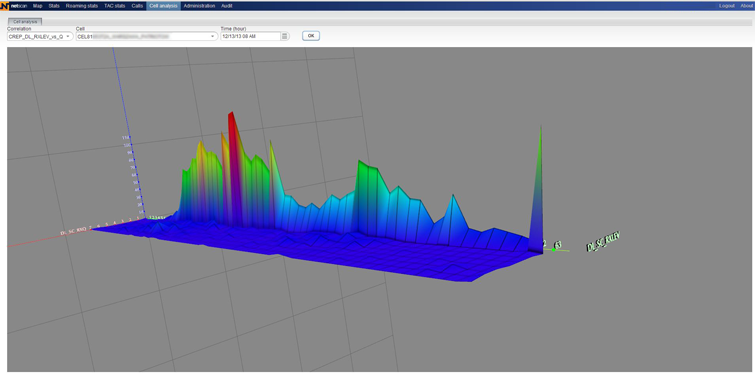 3-dimensional graphs illustrate correlation between specific measurements reported in MR messages for the selected cell and time.

Graphs are available for: down-link Rx level vs quality, up-link Rx level vs quality, timing advance vs up-link quality, timing advance vs down-link quality.
Roadmap
Support for 2G and 3G RAN interfaces (Iub, Gb).

eUTRAN monitoring.

Real-time alarming per cell and/or controller (BSC/RNC). Real-time alarming related to specific subscribers, e.g. VIPs.

Real-time alarming related to specific subscribers, e.g. VIPs.

Geo-location.

Advanced algorithms to support radio-planning (HO relations optimisation, coverage analysis, geo-service analysis).